Is There Anything I Can Do About My C-Section Scar?
---
Posted June 22, 2023 in Laser Treatments
3 Minute Read: 
Women often have mixed feelings about their C-section scars. While it's a reminder of the amazing things a woman's body can do, the noticeable scar may also make them self-conscious.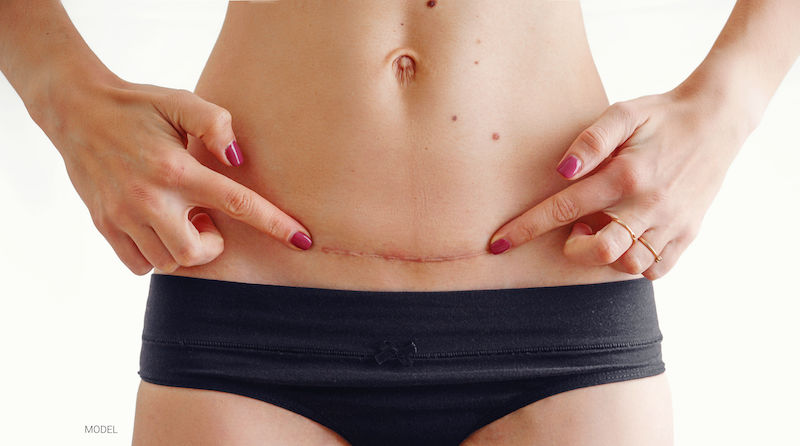 Fortunately, advances in fractional laser technology allow you to undergo a few short, non-invasive sessions to significantly lessen the appearance of your scar and give you the confidence to show off your stomach again. 
Fractional Laser Treatments Using the
Icon™ System
Women's OB/GYN Medical Group offers Icon™ fractional laser treatments through our be-You-tiful Medspa. Whether you want to address fine lines on your face, stretch marks, or C-section scars, the Icon™ system has you covered.  
How Do Fractional Lasers Work?
Fractional lasers deliver precision beams of light into the skin, deep into the dermis. The laser light is divided into tiny fractions of light, and these concentrated beams create thermal damage to your skin. Your body recognizes the injuries and regenerates healthy skin to replace the damaged tissue. 
Fractional lasers come in two types: 
Ablative

: This fractional laser affects both the topmost layer of skin (the epidermis) and the mid-layer of skin (the dermis). It is typically used to treat superficial concerns like age spots or fine lines.  

Non-ablative

: This fractional laser targets the dermis only, so that the outer layer remains undamaged. It activates the collagen in the dermis, encouraging renewal without damaging the outer layers of the skin. 
The non-ablative Icon™ laser delivers light in specific column patterns so that there are still areas of undamaged skin. The advantage of this method is that by damaging only specific areas (versus the entire treatment area), it decreases side effects and reduces downtime by accelerating the healing process. 
What to Expect From Your Icon™ Laser Treatment
You'll want to visit our be-You-tiful Medspa for a consultation to see if you're a good candidate to utilize Icon™ for your C-section scar treatment. Once you decide to move forward, get ready to say goodbye to your unwanted scar!
Icon™ laser treatment sessions are short, typically lasting around 30 minutes. Your trained and experienced Icon™ provider will guide the device handpiece over your scar as the laser delivers light energy deep into the dermis.
 Once the session is complete, you'll receive post-treatment instructions and schedule additional treatments as necessary. 
The Icon™ laser treatment is virtually painless, and you can resume your regular activities immediately. You may experience mild swelling and redness, but these side effects dissipate quickly. 
The results of your Icon™ laser treatment should be visible by about six weeks after your first session. If additional sessions are part of your treatment plan, they're usually scheduled between three and six weeks apart. 
Want to Discover More About
Icon™ to Eliminate Your C-Section Scar in Santa Rosa?
At Women's OB/GYN and Medical Group and be-You-tiful Medspa, we care about our clients and want to help you live your best, most confident life. Don't let your C-section scar keep you hiding behind too many clothes — contact us today! For the best C-section scar treatment in Santa Rosa, call our office at 707-575-1626, or fill out our online contact form for more information.