Is There Anything I Can Do About My C-Section Scar?
---
Posted February 01, 2023 in Certified Nurse-Midwife, Pregnancy
3 Minute Read: 
If you've delivered a child through a Cesarean section, no matter how long ago, congratulations! 
While some believe a C-section is easier than a vaginal birth, you know it takes a lot out of the mother, and recovery can sometimes make the initial time bonding with your baby physically uncomfortable.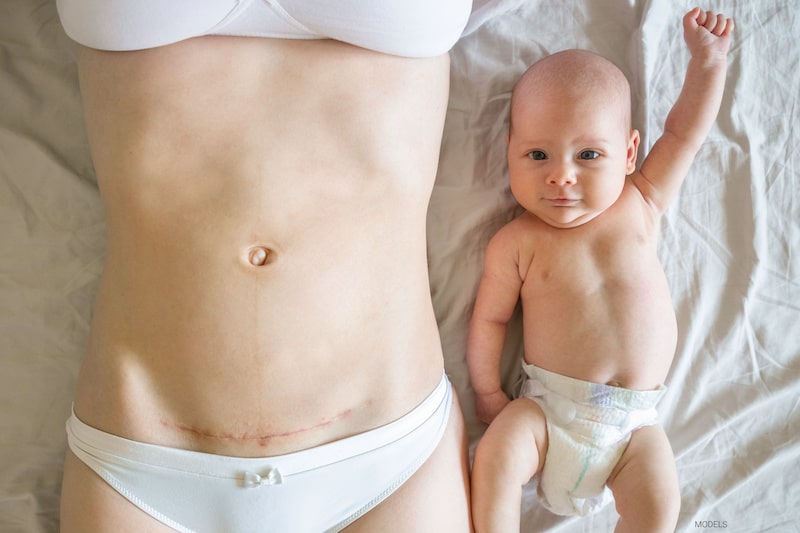 Adding to that, the scar stretching across your belly has earned you the right to correct anyone who says you had it easy.
The
Icon™ Laser
Has Good News About Your C-Section Scar
Your baby makes having a C-section worth all the trouble, but that doesn't mean you have to live with a prominent scar.
Icon™ provides targeted laser energy triggering your body's immune system to rapidly produce new skin cells that replace scar tissue without affecting the surrounding skin.
And not only that, but this energy also works on acne scarring and stretch marks! The Icon™ laser can treat the following:
Surgical scars

Stretch marks

Wrinkles

Acne scars

Acne 

Age spots

Sun damage

Skin tone and texture
How Does Icon™ C-Section Scar Treatment Work?
Treatment with the Icon™ fractional laser light system involves a trained professional moving an intelligently designed handpiece across the treatment areas to weaken the scar tissue and activate new cell production. 
While some patients report feeling nothing during treatment, others have said they felt a mild snapping sensation as the laser energy penetrates the skin.
Icon™ Is Quick, Easy
, and Involves Little to
No Downtime
Before receiving treatment, follow these tips one week before treatment to increase safety and have the best experience:
Stop exfoliating

Don't try new skin products

Don't use tobacco or alcohol

Don't tan or use tanning creams

Discontinue the use of retinoids, as well as salicylic, glycolic, and lactic acid solutions 

Avoid aspirin, NSAIDs, fish oils, and vitamin E, with your doctor's permission, as these can thin blood thinners and increase bruising
Icon™ laser treatment can be used on all skin types, and you can expect your session(s) to last less than 30 minutes, depending on the size of the treatment area. 
The Advanced Contact Cooling™ feature of Icon™ keeps skin cool during treatment, and the procedure is fully customizable. 
You may experience some redness or swelling similar to a sunburn after the procedure, which typically resolves within three days. Occasionally bruising can develop, and very rarely, mild blistering has occurred.
While the natural healing response begins to create healthy, new skin cells immediately, you should see initial results in about two to three weeks. 
Most patients require three to five sessions for ideal results that should be spaced three to six weeks apart.
Icon™ Laser Treatment for C-Section Scars in
Santa Rosa, CA
Women's OB/GYN is committed to providing comfortable, effective care, including skin treatments for C-section scars in Santa Rosa, California.
Schedule your Icon™ laser treatment consultation today by calling (707) 575-1626. 
Women's OB/GYN and be-You-tiful Med Spa offer a wide range of medical and cosmetic treatment options, including the following comprehensive health screening services:
HSG

Testing for STDs 

Urodynamics

Ultrasound

Pap smears

Biopsies

Cervical cancer screening

Variety of blood tests
The dedicated physicians at Women's OB/GYN are affiliated with Sutter Medical Center of Santa Rosa and Santa Rosa Memorial Hospital.