How Can I Improve My Skin With Laser Treatments?
---
Posted April 14, 2023 in Laser Treatments
3 Minute Read: 
Treatments for various skin concerns have evolved as new technology has been developed. Non-invasive or minimally invasive laser procedures are among the most versatile cosmetic advancements and can treat multiple skin conditions.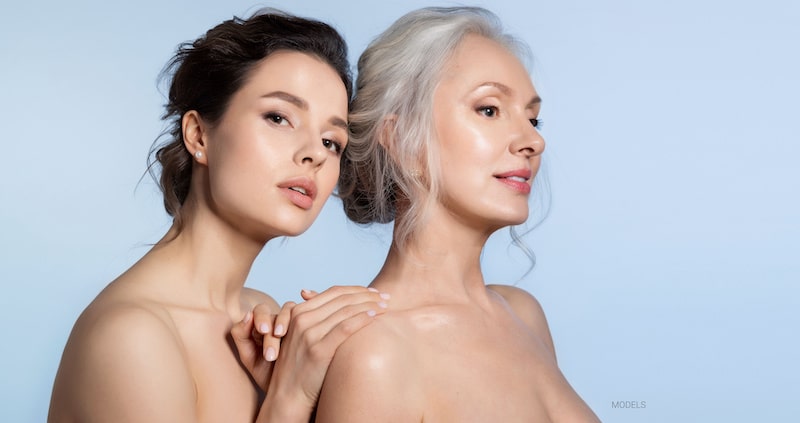 Some specific laser treatments include:
Icon™ laser

– For lines, wrinkles, facial veins, discoloration, scarring, stretch marks, hair removal, and more

ThreeForMe™ and intense pulsed light (IPL/photofacial)

– For hyperpigmentation brown spots, wrinkles, sun damage, and vascular lesions

MonaLisa Touch®

– For feminine wellness, increased comfort, and improved urinary control
If you want to improve the quality of your skin without surgery, these laser devices can address multiple skin flaws to help you avoid or delay the need for cosmetic surgery. 
The following treatments are often better than surgery for scarring, stretch marks, complexion, and skin texture issues.
The Icon™ Laser
The Icon™ laser targets skin imperfections on the face and body using specific wavelengths to effectively improve the appearance of:
Wrinkles

Stretch marks

Facial veins

Hyperpigmentation

Scars (from acne, injury, or surgery)
Learn more about the Icon™ laser here.
ThreeForMe™ & Intense Pulsed Light (IPL/Photofacial)
Intense pulsed light or IPL is a low-level laser treatment that delivers broadband light therapy precisely to the sites of age and sun-related skin damage such as:
Hyperpigmentation

Age spots

Vascular lesions
ThreeForMe™ combines intense pulsed light with microbeam laser technology to trigger new collagen and elastin production for the reduction of:
Wrinkles

Sun damage

Facial veins
Learn more about Intense pulsed light and ThreeForMe™ treatments here.
MonaLisa Touch®
The MonaLisa Touch® is a fractional laser that can rejuvenate vaginal tissue in women experiencing dryness, irritation, and urinary issues caused by hormonal changes due to childbirth or menopause.
Learn more about MonaLisa Touch® here.
Laser Hair Removal
Laser hair removal is a popular solution that uses advanced light energy to disrupt the cycle of unwanted hair and significantly slow its growth. 
Learn more about laser hair removal here.
Radiofrequency (RF) Technology
Venus Viva™ MD
Venus Viva™ is an innovative skin resurfacing treatment that reduces or eliminates redness while improving skin texture and firmness by using RF energy to promote collagen production deep within the skin. This cosmetic technology is often used to address the following concerns:
Uneven skin tone and texture

Fine lines and wrinkles

Mild to moderately sagging skin (especially after liposuction)

Enlarged pores

Rosacea

Hyperpigmentation

Cherry angiomas and spider veins

Acne scarring

Stretch marks

Tattoos
Learn more about Venus Viva™ MD here.
Morpheus8™
Morpheus8™ combines microneedling with gentle RF energy that is safe and effective for all skin types. This technology was designed to help individuals achieve a smoother and more youthful-looking appearance by improving skin concerns, including:
Fine lines and wrinkles

Loose skin

Acne scars

Deposits of fat 

Cellulite
Learn more about Morpheus8™ here.
Intensive Facial Treatment
HydraFacial® is a three-step skin revitalizing process that can be received as an effective stand-alone treatment and before or after laser or energy-based treatments.
HydraFacial® takes only 30 minutes and includes the following:
Cleanse

– The first exfoliating applicator gently

removes dead cells

and debris to clean the top layer of your skin. 

Exfoliate

– A scientifically developed, proprietary serum containing

salicylic and glycolic acid unclogs your pores

by going even deeper to lift embedded dirt and other materials, then extract these impurities and

improve your skin tone

.

Protect

– Finally, your provider applies a combination of

antioxidants, hyaluronic acid, and peptides

to

detoxify your skin

and help protect it from additional damage.
Learn more about HydraFacial® treatment here.
Advanced Skin Treatments in Santa Rosa, CA 
The entire team at Women's OB/GYN's Be-You-Tiful Med Spa are committed to helping women like yourself look and feel better with a wide variety of wellness and cosmetic skin treatments in the Santa Rosa, California area and beyond.
Call (707) 575-1626 to reach Women's OB/GYN and schedule an appointment to find out how we can help you.